Infos :
Pictures :
Site Links :
Help of Travel :
---
---
Botswana: Health and Safety
Prepare your travel to Botswana
---
I. General information related to the security of Botswana
Frequent health inspection, do not carry fresh meat.
For our part we have had no problems.
For more information:

http://www.diplomatie.gouv.fr/fr/conseils-aux-voyageurs_909/pays_12191/botswana_12218/index.html"
Road safety:
Driving is on the left.
Avoid driving at night, lots of wildlife out there.
Aside from the lack of paved road, a 4x4 is needed to visit the country.

---
II. General information related to the health of inhabitants of Botswana
Fertility rate: 3.7 children / woman
Death rate: 24.18% o
Infant mortality rate: 63.2% o
Life expectancy: 37 years
Literacy rate: 79.8%
Percentage of HIV (adult): 36%
Population below poverty line: 23.4%

---
III. Map of malaria in Botswana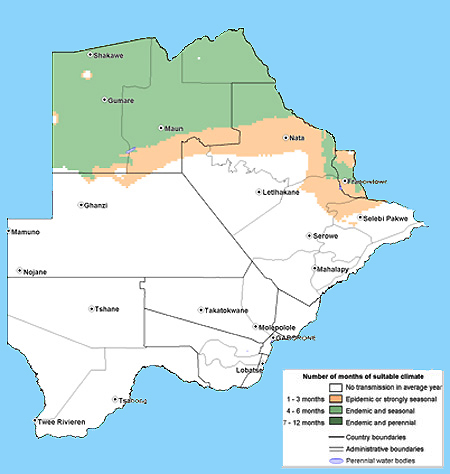 Map malaria in Botswana
---
IV. Info on water quality in Botswana
It is advisable not to drink tap water.

Source : 2008

---