The Blyde River Canyon is located in South Africa in Eastern Transvaal province of Mpumalanga.
The French translation gives "le Canyon de la rivière de joie" and Afrikaans "Blyderivierspoort".
Mpumalanga is located in the northern part of the Drakensberg mountain range.
The canyon is 26 kilometers long and 800 meters deep. It is crossed by the Blyde River ...
Information on
The Blyde River Canyon
.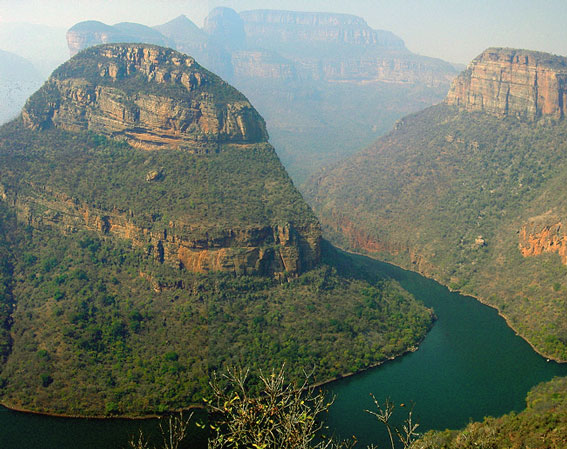 Blyde river canyon
The Berlin Falls is a waterfall in Mpumalanga, South Africa.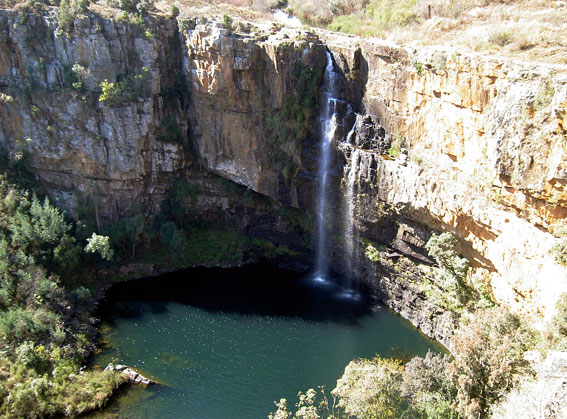 Berlin falls
Lisbon River in South Africa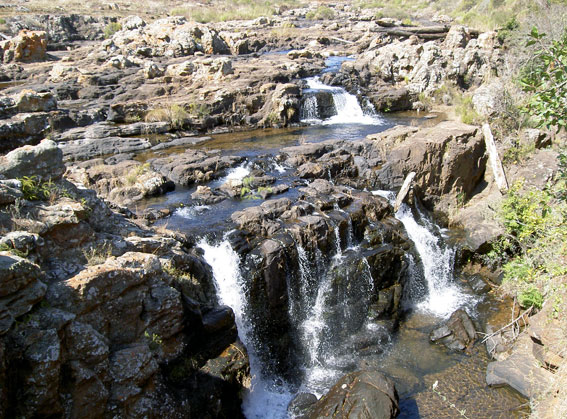 Lisbon River
The Pinnacle Rock is a tower-like freestanding quartzite buttress which rises 30m above the dense fern clad ravine and indigenous forest.
To the right, and below, the viewing plateau from which can be seen only the topmost of eight waterfalls which take the river down approximately 450m in a series of alternating falls and cascades.
Pinnacle Rock
One look down and you'll see why. So called for the panoramic view of the Lowveld.
For the best lookout points and exotic forest plants, break away from the crowds and hike up up into the clouds and the misty Rain Forest.
Here clearings afford heavenly views of the subtropical expanse far below at an altitude of 1,829m above sea level.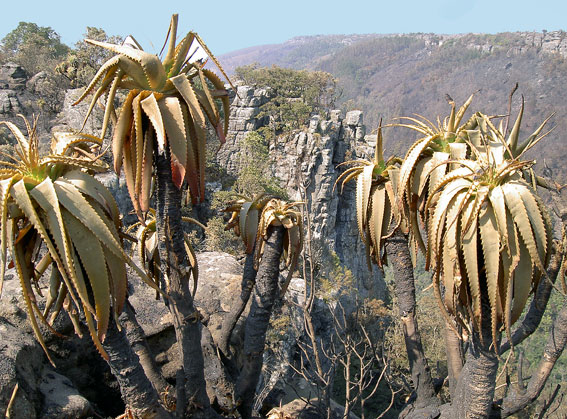 God's Windows
Landscape of South Africa.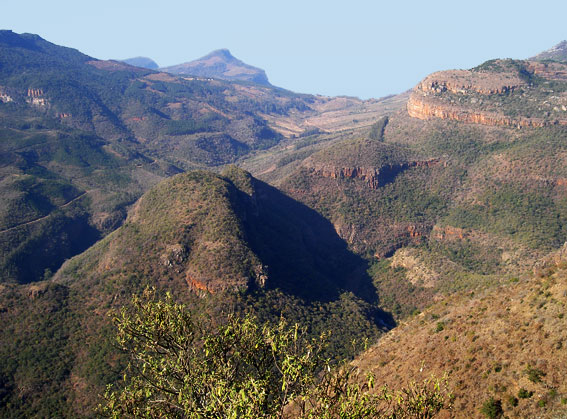 Scenery South africa
At 92m the Lisbon Falls are the highest waterfall in the area as the Lisbon river cascades over the sheer cliff in a double stream and over a semi-circular rock face.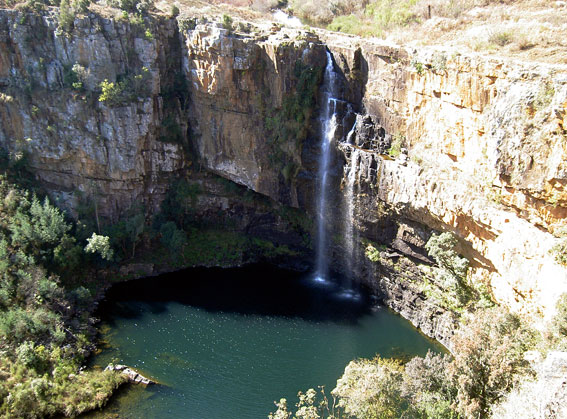 Lisbon falls
From the Lowveld View Point the coloured strata of the awe-inspiring rugged peaks of the Blyde Canyon can be viewed.
Far below the Blyde River foams and tumbles along the rocky canyon floor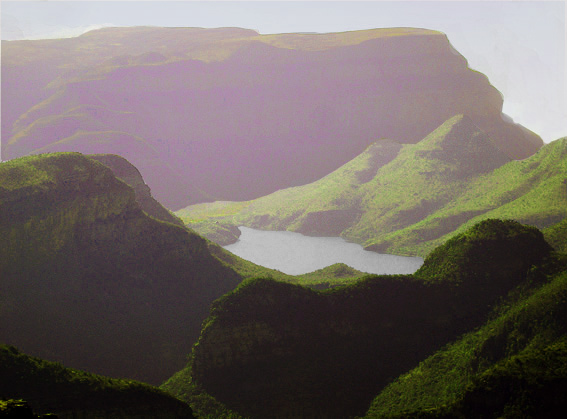 Lowveld View
The Three Rondavels, across the Blyde Canyon and at the end of the Panorama Route in Mpumalanga, are huge triplet rock spirals rising out of the far wall of the canyon.
The word "Rondawel" is a South African word that refers to a round hut-like dwelling (usually with a thatched roof).
The three well known gigantic peaks of quartzite and shale with their sheer rock walls tower more than 700 m above the surrounding landscape.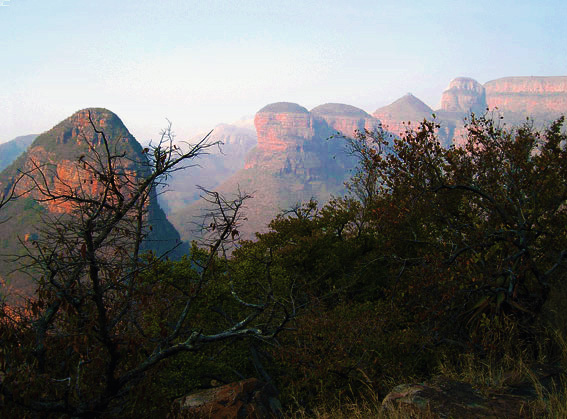 Three rondavels
Wonder View is the highest viewpoint on the Panorama Route escarpment in Mpumalanga accessible to the motorist.
It has an even more magnificent view than the one at God's Window.
At an altitude of 1,730 m this is the highest viewpoint in the area.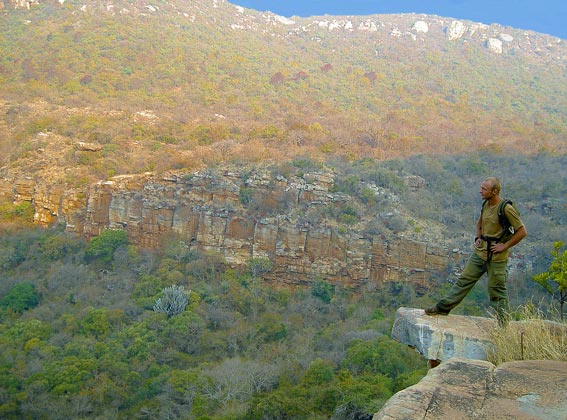 Wonder View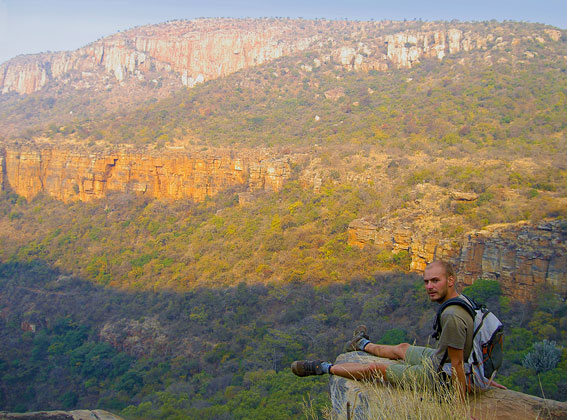 Wonder View
World's end in the Blyde River Canyon