Travel Journal to South Africa
The discovery of Limpopo Region
Friday, July 27, 2007
Today we finally leave Botswana to join South Africa, it is not too early, we started to get the drone!
We cross the border by the position of Martin's Drift. Another change needed money, so Mokopane direction! We find civilization, it was long!
Mission, must find a campsite, we have to roll enough. But no luck, this region is densely populated, so no camping in the distance. Nightfall is still nothing yet! Even five hundred kilometers today, but it's good we find something near Tzaneen.
We are near the reserve Magoebaskloof. Although night has fallen, for a long time already, the place looks to be beautiful. A forest of fir in a setting valloneu! Strongly sunlight to enjoy this show!



Saturday, July 28, 2007
We spent the day enjoying the many activities of the campsite. Pool, trampolines, pool ... It becomes a little vacation all this!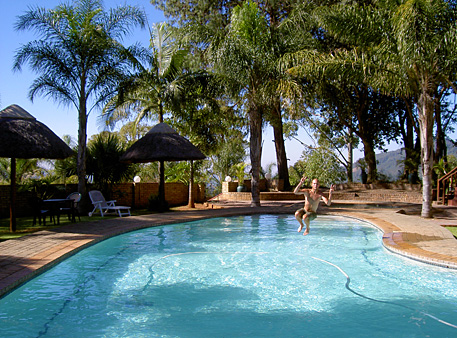 Swimming Pool


The frame is really gorgeous, too bad we have to cross a portion of this area at night.
Roman remains still sick, confirmation of malaria !!!???

Sunday, July 29, 2007
We left our three stars, and resume our favorite activity, walking! We start in Magoebaskloof, we place our car at the top of the hill.
We are surrounded by nature, is green, it changes the neighboring country that we visited.


Scare all the same I'm stuck on a steep section. I thought I would die there, unable to extricate myself and no outlet near.
But after some minutes, a big thank you to Roman! He gets me out of this awkward position.
On returning, something strange happens to us.
We call away, for, as the only reason to touch our hair! Since the beginning of our journey, many are asking if we were twins! Yet we do not look alike. The three hairs that remain on the skull, there must be something to do.
After this digression, we resume our journey towards Kruger Park. Need to find a campsite not far from the park to enjoy it all day! On the road, a sign we plot.
The Eiland Park, Not far from the village on the R529 Cotte. Given the number of business, it looks to be great. Sounds a little detour and it's a bit far from Kruger ParkBut we try anyway, nothing to lose!
Many old here, camping is great! But no matter, here are trampolines, four swimming pool, giant slide, spa ...



Monday, July 30, 2007
Rest day again, we enjoy the heated swimming pool, but above the Spa and gym.