Travel Journal to Zimbabwe
Wednesday, July 18, 2007
We leave our campsite, it will be free, given the location that we had rotten, no remorse! We return to Kasane, And check if the ATM is operational! Good news is repaired, but MasterCard does not pass. The Roman visa will she pay all our trip to Botswana ?
After a few kilometers, we here at the Zimbabwe border. The long wait at customs! Apparently I bear the same name as a tribal leader from home, do not know, they laugh and we all let go.
A little unexpected happens, insurance to take care about past the other side, we pay without much conviction, is that really mandatory or a scam?
Nevertheless, we are reduced to four hundred pula! We finally arrived at the famous Victoria FallsReally beautiful.


Even if the visit falls are expensive, the show is really worth. The city itself, poses no problem, lots of safety in this very touristy place.
We spend the night at the Restcamp same city, or we drink a few beers in chairs arranged around the pool.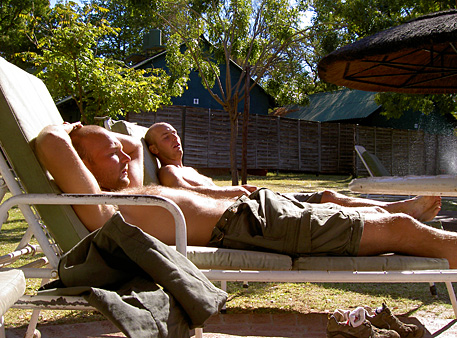 Victoria Falls Restcamp