Infos :
Pictures :
Site Links :
Help of Travel :
---
---
Namibia: Health and Safety
Prepare your travel to Namibia
---
I. General information related to security in Namibia
For our part we do in Namibia caused any problems of insecurity, even for the border of Angola and the Caprivi.


- Police: area code 10111
- Ambulance: 211 111 + area code
- Medical assistance: 249 777 + area code
Road safety:
Driving is on the left.
Avoid driving at night, lots of wildlife out there.
Namibia is the first country to tourists fatalities on the roads.
For more information please visit the website of the French diplomacy.
http://www.diplomatie.gouv.fr/fr/conseils-aux-voyageurs_909/pays_12191/namibie_12297/index.html

---
II. General information related to the health of people in Namibia
Total fertility rate: 3.06 children born / woman
Age structure:
0-14 years: 38.2%
15-64 years: 58.1%
65 years and over: 3.7%

Mortality rate 18.6% o
Infant mortality rate: 48.10% o
Life expectancy: 43.39 years
Literacy rate: 84%
Percentage of HIV (adult): 21.3%
Access to safe water: 80%

---
III. Map of malaria in Namibia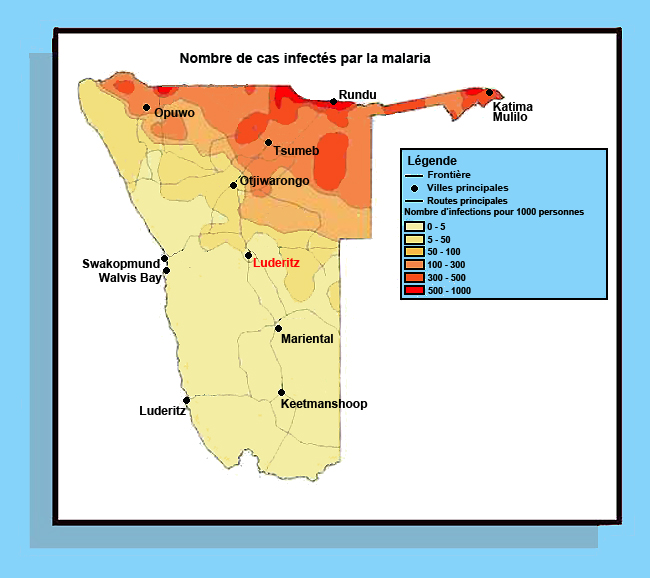 Map Malaria in Namibia
---
IV. Map of water quality in Namibia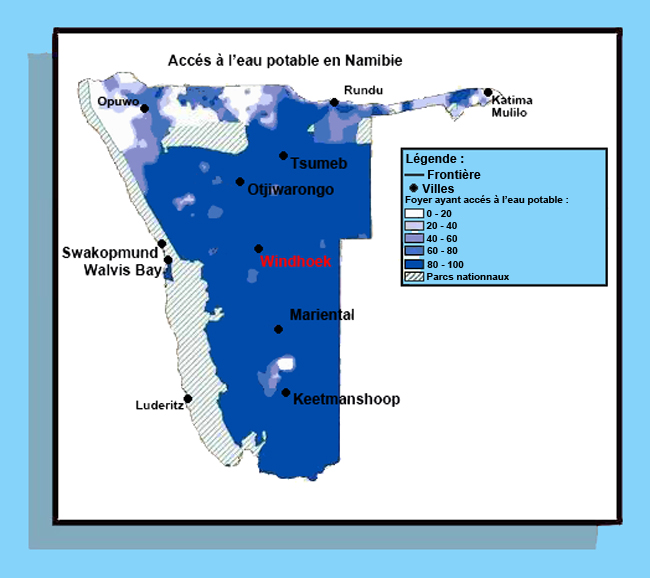 Map of water quality in namibia
---
V. Vaccines, first aid kit and main risk in Namibia
Vaccines Mandatory:
None from Europe.
Main risks:
MALARIA:
Malaria risk exists primarily in the north from November to June It is essentially a Plasmodium falciparum, which is the severe form. Resistance to chloroquine is common.
Vector : Mosquito

YELLOW FEVER:
No yellow fever in Namibia. Vaccination is not compulsory. However a vaccination certificate is required from all travelers coming from yellow fever endemic countries.
Vector : Mosquito

DENGUE:
No dengue in Namibia. Protective measures against mosquito bites are still important. Note the presence in the North of viruses associated with dengue (arboviruses).
Vector : Mosquito

HEPATITIS B - HIV:
The risk is mainly related to behavior: sexuality, prostitution, drug addiction. High risk for hepatitis B.
Vector : Blood, sexual contact ...

HEPATITIS A:
Very significant risk, according to food hygiene.
Vector : Food

TYPHOID:
Many types of intestinal infections are present. Of these infections by Salmonella typhi is particularly serious but rare in Namibia. Food hygiene and hand transmission are factors of primary prevention.
Vector : Food

CHOLERA:
No cholera in Botswana. Compliance with food hygiene is essential.
Vector : Food

INTESTINAL INFESTATION INFECTION & MISCELLANEOUS:
Infectious viral agents, bacterial and parasitic contaminating food and water are numerous and frequent. The risk is also important fecal (transmission by hands).
Vector : Food

SCHISTOSOMIASIS:
The risk is linked to swimming in fresh water (thus avoiding). Stagnant waters are particularly affected.
Vector : Freshwater
Warning: "To dip one's feet" or "walking in the water" may be enough ...

RAGE:
The risk exists, particularly in rural areas. The risk of transmission to humans is mainly represented by contact with animals ( jackals , squirrels, dogs and bats).
Preventative measures (vaccinations) are aimed primarily at adventurous travelers.
Vector : Dogs, animal bites.

Warning! The kids come willingly animals and are therefore particularly vulnerable.
The aid kit:
- Protection against malaria preventive medicines and presumptive treatment.
- Fight against insects: repellents, insecticides.
- Analgesics and antipyretics: prefer paracetamol to aspirin less resistant to heat.
- Antidiarrheal.
- Antiemetic against motion sickness.
- Anti-infflamatoire ointment or stamp.
- Desel tablets to prevent dehydration.
- Wound Care: disinfectant or sanitizer pommage, pommage healing, sterile dressings, adhesive sutures, sterile gauze, bandage.
- Material: thermometer, scissors, tweezers, disposable equipment (needles and syringes), condoms, tampons, safety pins.
- Sterile compresses.
- Against the sun: sunscreen cream and cons and burns Biafine type.
- Tablets of sterilizing water.
- Eye drops for conjunctivitis pods, coalgan for nosebleeds ....

---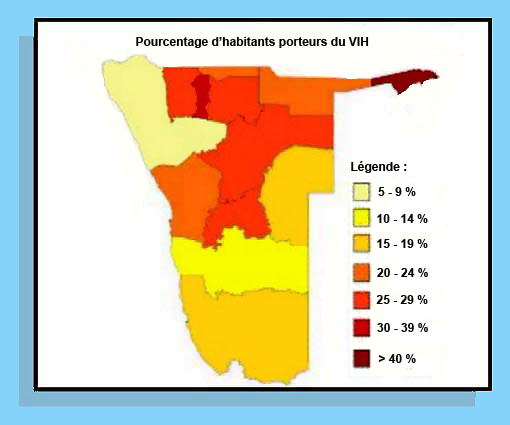 AIDS in Namibia
Source : 2008
---