Infos :
Pictures :
Site Links :
Help of Travel :
---
---
Zimbabwe: Climate and geography
Prepare your travel to Zimbabwe
---
I. Geographical location and climate of Zimbabwe
a. Location
Zimbabwe occupies part of the large plate? Southern Africa. Mainly composed of highlands, the country is crossed from north to south by the "Great Dyke" (large vein), a geological curiosity, outcrop of mineral-rich peak at 1525 md? Altitude and Stretching over nearly 500 km.
Its sides slope gently up Valleys of the Zambezi, which forms the northern border, and Limpopo, the natural border to the south.
Another mountain range, culminating at 2592 m at Mount Inyanga, along the eastern border.
The artificial Lake Kariba (Kariba Dam reservoir on the Zambezi) marks the border with Zambia.
South of Bulawayo, Matopos the peak at 1543 m.
b. Climatic situation
Zimbabwe enjoys a relatively moderate climate because of its altitude (almost the entire country is located more than 300 m). The rainy, warm, Extends to October to March.
The average temperature of 15.5 ° C in July (winter) at 21 ° C in January (summer).
Annual precipitation ranges from 700 mm to 890 mm.

---
II. Relief Map of Zimbabwe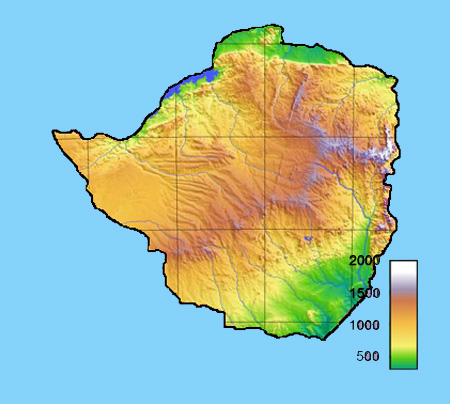 Topographic map of Zimbabwe
---
III. Temperatures and rainfall in major cities in zimbabwe
| | | | | | | | | | | | | |
| --- | --- | --- | --- | --- | --- | --- | --- | --- | --- | --- | --- | --- |
| Bulawayo | January | February | March | April | may | June | July | August | September | October | Nevember | December |
| Temperature max | 28 | 27 | 27 | 26 | 23 | 21 | 21 | 24 | 28 | 29 | 28 | 28 |
| Temperature min | 16 | 16 | 15 | 13 | 9 | 7 | 7 | 9 | 12 | 14 | 16 | 16 |
| Rainfall (mm) | 117 | 104 | 51 | 33 | 8 | 3 | 0 | 3 | 8 | 38 | 91 | 119 |
| | | | | | | | | | | | | |
| --- | --- | --- | --- | --- | --- | --- | --- | --- | --- | --- | --- | --- |
| Harare | January | February | March | April | may | June | July | August | September | October | Nevember | December |
| Temperature max | 26 | 26 | 26 | 26 | 23 | 21 | 21 | 23 | 26 | 28 | 27 | 36 |
| Temperature min | 16 | 16 | 14 | 13 | 9 | 7 | 7 | 8 | 12 | 14 | 16 | 15 |
| Rainfall (mm) | 196 | 178 | 117 | 28 | 13 | 3 | 0 | 3 | 5 | 28 | 97 | 163 |
| | | | | | | | | | | | | |
| --- | --- | --- | --- | --- | --- | --- | --- | --- | --- | --- | --- | --- |
| Karoi | January | February | March | April | may | June | July | August | September | October | Nevember | December |
| Temperature max | 26 | 26 | 26 | 26 | 24 | 22 | 22 | 24 | 28 | 29 | 28 | 26 |
| Temperature min | 17 | 17 | 16 | 14 | 11 | 8 | 8 | 9 | 13 | 16 | 17 | 17 |
| Rainfall (mm) | 130 | 107 | 66 | 28 | 13 | 5 | 3 | 8 | 10 | 30 | 76 | 140 |
| | | | | | | | | | | | | |
| --- | --- | --- | --- | --- | --- | --- | --- | --- | --- | --- | --- | --- |
| Victoria Falls | January | February | March | April | may | June | July | August | September | October | Nevember | December |
| Temperature max | 30 | 29 | 30 | 29 | 28 | 26 | 25 | 28 | 32 | 34 | 32 | 30 |
| Temperature min | 19 | 18 | 17 | 14 | 10 | 7 | 6 | 9 | 14 | 18 | 19 | 19 |
| Rainfall (mm) | 173 | 142 | 79 | 23 | 5 | 0 | 0 | 0 | 3 | 25 | 71 | 170 |
Source : 2008
---