Infos :
Pictures :
Site Links :
Help of Travel :
---
---
Bwabwata National Park
Nature Reserve of Namibia
| | |
| --- | --- |
| | Bwabwata National Park |



---
I. Map of Bwabwata National Park in Caprivi Strip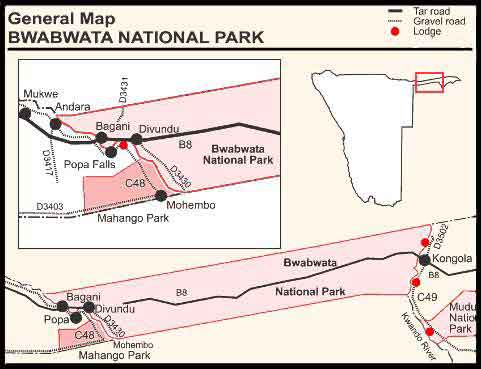 map to Bwabwata National Park
---
II. Description of Bwabwata National Park
The whole western part of the Caprivi now has the status of animal reserve.
In 2002, the National Park Mahango (Mahango National Park) and the animal park in western Caprivi (Western Caprivi Game Park) were combined to form the National Park Bwabwata (Bwabwata National Park).
This park stretches from the Okavango River to the Kwando River covers over 5000km2.
The wildlife is impressive, there are several thousands of Elephants , Buffalo, Hippopotamus, various antelope species, as well as Lions and leopards.


---
III. Formalities of Bwabwata National Park
You remove an entry permit or Susuwe in Katima Mulilo.
Entrance fee : $ 40 N + 10 N $ for the car.
Booking : At the Katima Mulilo IRDNC or NACOBTA.


---
IV. Access to Park
Caution: The trails of the park is very little traffic and sometimes very sandy, well-equipped vehicle is highly recommended.
1722 Kwando map is available at the office of the Surveyor General, Windhoek.
No permit is required to cross the park if you take the paved road B8, also known as Trans-Caprivi Highway (Trans Caprivi Highway).
But there is no barrier, so keep the utmost vigilance!


---
V. Accommodation in Bwabwata Park
Within the National Park Bwabwata, recement No agreement has been signed between the Ministry of Tourism and Environment and local communities.
This agreement enables communities, through their "conservancies" respectively, to develop and manage two campsites within the park.
This is a unique experience and a first in Namibia.
In addition, communities are also responsible for the protection of wild animals in the villages adjacent to the park.
Profits generated by these camps are used directly for conservation and improvement of living standards of local people.


Camping inside Bwabwata National Park
» Bwabwata Campsite
Hotels and lodges near the Bwabwata National Park
» Hotels & Lodges Bagani west of the park Bwabwata.
» hotels & lodges Kongola east of the park Bwabwata




Source : 2008

---