Mamili National Park
Nature Reserve of Namibia
| | |
| --- | --- |
| | Mamili National Park |
---
I. Map of Mamili National Park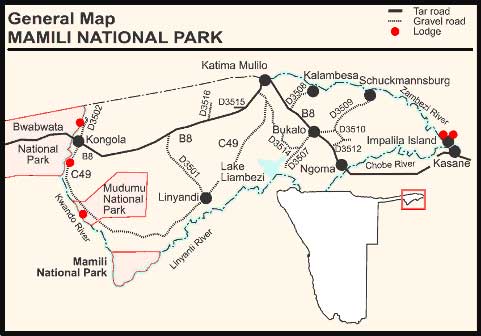 Map to Mamili Park
---
II. Description of Mamili National Park
No humans in this swampy, inhospitable savannah of 350 km2, impenetrable to the rainy season and dry the rest of the year.
Elephants , hippos, buffaloes, antelopes and many others, share the dense vegetation and tall grass.
The many trunks that seem to float on the arms of the Linyanti river are Crocodiles !
This part of the Caprivi Strip is also home to majestic birds: wattled crane, Jabiru Senegal, black-bellied bustard ...
The Okavango Delta in Botswana, wildlife move freely, not caring that poachers without compassion.
That is why the reserve is constantly monitored by rangers who get around on foot or by boat across the territory.


---
III. Formalities of Mamili National Park
This nature reserve, covered swamps capricious, is completely undeveloped for tourism.
However, we can obtain a permit to enter with the Office of Parks Reservation nationnaux Windhoek.

Namibia Wildlife Resort
189 Avenue indepent
PO Box 13267 Windhoek
E-mail: reservation@mweb.com.na

Or Katima Mulilo, but its peril.

Entrance fee : $ 40 N + 10 N $ for the car.


---
IV. Access to Park
The Mamili National Park is reached by taking the D3511 to south, the park entrance is at the village Sangwali.
Motorable tracks crisscross the territory, but many are totally impractical in the rainy season.


---
V. Accommodation in Mamili Park
All visitors must be fully autonomous.
Camping is the only option.
However, because of the real dangers posed by predators and animals, precautions must be taken: it is strongly advised to sleep in a tent with mosquito (mosquitoes are numerous, especially in the wet season).
Lodgings near Mamili park :
» Kongola Hotel & Lodge
» Kongola Campsite



Source : 2008