Infos :
Pictures :
Site Links :
Help of Travel :
---
---
Quivertree forest & Giant's Playground
Prepare your Travel in namibia
Quivertree Forest & Giant's Playground


Quivertree Forest


---
I. Description and Formalities to Quivertree Forest & Giants Playground
Quivertree Forest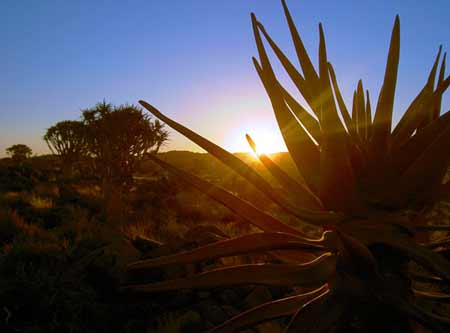 The quiver tree forest at sunset



About fifteen kilometers northeast of Keetmanshoop , dozens of trees were grouped forming a cerite forest in the heart of magnificent rocky peaks scuptés by erosion.
The site was classified by the Historic Buildings in 1955.
Forest and Giants Playground Kokerboom will be a journey of several hours a day.
It is strongly recommended to stay for the sunset.
Giant's Playground
The Giants Playground is an amazing geological formation at some 5 km away.
The site is part of the same complex (s'ascquitter of admission to Quivertree Forest Camp) and deserves a ride.
When light becomes oblique, the play of shadows on the red rock piles offer an amazing spectacle.
Also a excellent opportunity to approach hyraxes , closest living relatives of elephants , who haunt these places.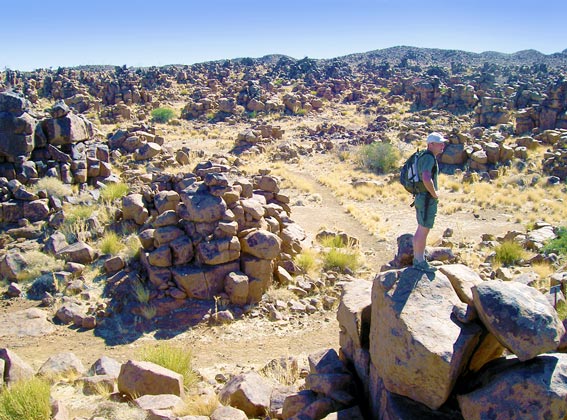 Giant's Playground to Namibia
Formalities
Admission for the Forest & Giants Quivertree Playgound: 50N $ per person .
Reservations:http://www.quivertreeforest.com/booking.htm


Mesosaurus Fossil Site
Twenty miles away on the C17 towards Koes, fossil remains of interest to fans Mesosaurus paléontolgie. Site link : Mesosaurus Fossil Site.


---
II. Come to Quivertree Forest
The Quivertree Forest & Giant's playground is located on land Gariganus farm 13 km north-east of Keetmanshoop on the road M29.


| | | |
| --- | --- | --- |
| Geographical location of Quivertree Forest | | map of Quivertree Forest |
---
III. Accommodation at Quivertree Forest & GiantsPlayground
» Inside of Quivertree Forest:
- Le Quivertree Forest Camp : camping 80 N$ per person.
Site internet: http://www.quivertreeforest.com/ - Our Opinion on the Quivertree.


» Hotels and Lodges in Keetmanshoop :
» All Hotels / Lodges and campsites in Keetmanshoop
» Hotels & Lodges in Keetmanshoop
» Campsites Keetmanshoop


---
IV. The Kokerboom
The quiver tree is a plant which would be interested and the most characteristic of hot, dry regions of Namibia and north-west province of South Africa in Cape Town.
Strictly speaking, this is not a tree, but a variant of aloe plant, whose botanical name is Aloe dichotoma.
Dichotoma refers to the forked branches and the plant is called "quiver" due to the use by the tribes of the Hottentots bark and branches robust and flexible to make quivers for their arrows. (Koker = quiver)

The quiver tree is a tree trunk and smooth thick jusu'a reaching one meter thick at the base and nine meters high.
They are generally only renontre and snow in large groups, giving the effect of a forest.
The quiver tree is propagated by seeds. It flowered for the first time at age 20 to 30 years.
The flowers are yellow and up to thirty centimeters in size during the flowering season, ie winter months of June and July.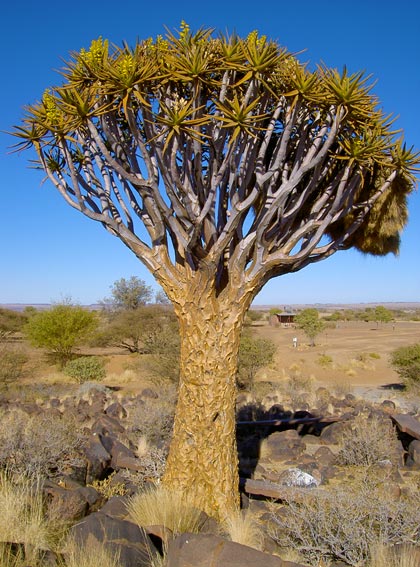 Quiver Tree in namibia



The quiver tree especially in environments with high concentrations of black rocks (ysterklip) absorbing a large heat capacity (average summer temperature of 38 ° C).
The rocks are also used to anchor the tree with sprawling roots. In addition to the quiver tree is frost resistant.

The trees of the forest grow naturally, none having been planted by man.
Each has between 200 and 300 years of age. The quiver tree drill was declared a national monument June 1, 1955.

---
V. Photos of Quivertree Forest & GiantsPayground
» Pictures of Quivertree Forest & Giants Playground


---
VI. Climate of quivertree Forest & Giants Playqround
| | | | | | | | | | | | | |
| --- | --- | --- | --- | --- | --- | --- | --- | --- | --- | --- | --- | --- |
| Keetmanshoop | January | February | March | April | May | June | July | August | September | October | November | December |
| Temperature max | 35 | 34 | 32 | 29 | 25 | 22 | 21 | 24 | 27 | 30 | 32 | 35 |
| Temperature min | 19 | 19 | 18 | 14 | 10 | 7 | 6 | 8 | 11 | 14 | 16 | 18 |
| Rainfall (mm) | 24 | 42 | 36 | 15 | 5 | 2 | 1 | 1 | 3 | 6 | 11 | 13 |
---
VII.Book on the kokerboom
- Into Kokerboom Country: Namaqualand's Jewish Pioneers


- Travel journal to Quivertree Forest and Giants Play's Ground

Source : 2008

---